Description
A Yoga Paws the wearable yoga mat!
The inspiring and unique way to stabilize your foundation when doing yoga postures and Pilates exercises. A revolutionary design provides solid support, extra padding, and non-slip peace of mind. Fitting in your purse, pocket, or travel bag.
The set includes: the palms of the hands and soles of the mini-sized non-slip yoga mat.
In addition to a description of the appropriate size you can help in the following video, but also in the picture below will show you how to measure the hand: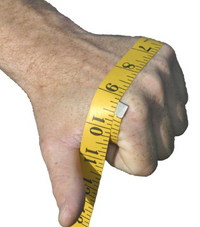 Then simply read off the table below, which size is right for you:
 

Size #1

 

(S)

 

Size #2

 

(M)

 

Size #3

 

(L)

 

Size #4

 

(XL)

14 - 16,5 cm
17,8 - 20,3 cm

20,3

 - 24 cm

24 cm

- 26,6 cm
Reviews
Heni
|

03/08/2014
Szuper ez a cucc! Én főleg azért vettem meg, mert bármilyen szőnyegen (és törölközőn) csúszott a kezem, erre ez a kesztyű tökéletes megoldás!
Egy apró gond van vele: a kéz összekulcsolása kicsit nehézkes, de ennyi belefér.
Köszönöm!
Those who ordered this product also liked the following items: