Szék fejenálláshoz - FeetUp
Manufacturer:

Availability:

In Stock

Loyalty points available to receive:
220
Average Rating:

(2)

Expected delivery:
June 28, 2022

Ez az innovatív eszköz támogatást nyújt a Fejenállás biztonságos és stabil megtartásában anélkül, hogy a nyakadra vagy a gerincedre nyomás nehezedne. 
Description
Ha a Fejenállás az ászanák királya, akkor a FeetUp a trón. Ez az innovatív eszköz támogatást nyújt a Fejenállás biztonságos és stabil megtartásában anélkül, hogy a  nyakadra vagy a gerincedre nyomás nehezedne. A FeetUp a kezdők számára megadja azt a magabiztosságot ami a lábaik égbe emeléséhez szükséges, és így érvényesülhet a Sirsasana (Fejenállás) jótékony hatása. A haladóbb gyakorlók számára új kihívást jelent a FeetUp, miközben újabb utakat fedeznek fel a fordított testhelyzetekben. A nyírfából készült szerkezet, és a puha műbőr borítású párnázott felület megfelelő alátámasztást biztosít a vállaknak. 
BIZTONSÁG:
csúszásgátló gumisapkák a lábakon a maximális stabilitásért,
szilárd szerkezet rétegelt nyírfából,
maximális terhelhetőség: 400kg
A CSOMAG TARTALMA:
FeetUp® szék
útmutató könyvecske, 28 oldal, gyakorlatokkal és azok leírásával,
4 db csúszásgátló sapka
összeszerelési útmutató (5 perc alatt  összerakható) FIGYELEM! Az eszköz nem szétszerelhető!
FENNTARTHATÓSÁG:
Minden egyes FeetUp® eladásakor a "Trees for the Future" alapítvány számára adományt juttatunk el, amelyből egy fát ültetnek a nevünkben. 
Egy FeetUp® = Egy új fa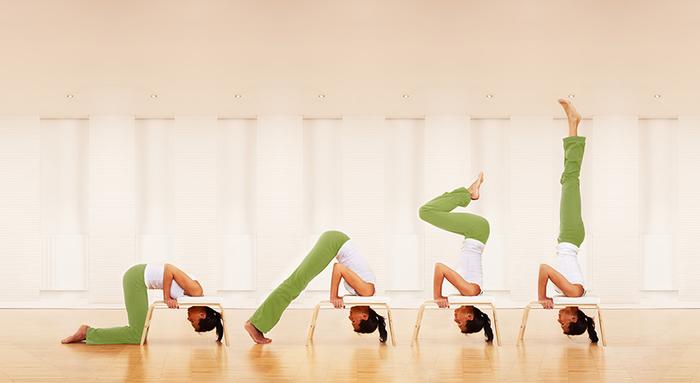 Gyakori kérdések
Használhatom a FeetUp-ot, ha kezdő vagyok?
Igen. A FeetUp szinte mindenki számára lehetővé teszi a Fejenállás megvalósítását. Sőt, leginkább az volt a cél a FeetUp megalkotásánál, hogy kezdők számára hozzunk létre egy eszközt. Az utóbbi évek során érkezett visszajelzések alapján kiderült, hogy a Fejenállás a FeetUp segítségével szuper könnyű!
Mennyi ideig maradjak fejjel lefelé?
Az elején csak néhány másodpercig. Rövidesen, amikor már magabiztosnak érzed magad, akár percekig is maradhatsz. A legjobb, ha a testedre hallgatsz.
Normális, hogy nyomást érzek a fejemben eleinte?
Általában igen. A testednek szüksege van egy kis időre, amíg megszokja, hogy fejjel lefelé van. Ha rendszeresen csinálod, a nyomás érzés hamar elmúlik.
Egészségesek a fordított pózok?
A régi iratokban a jóga mesterek a Fejenállás testre és elmére kifejtett csodálatos hatásairól beszélnek. A gravitáció irányának megváltozása edzi az érrendszert. További információkat találsz a Fejenállás egészségre gyakorolt hatásairól a jógáról szóló irodalomban, és az interneten.
Biztonságos a FeetUp® használata?
A FeetUp szerkezete rétegelt nyírfából készül, amely egy darabból áll. Ezáltal erős és rugalmas egyszerre. Pont mint egy jógi :)
Mekkora a maximális teherbírása?
A Technical University of Braunschweig (Németország) által végzett tesztek alapján a maximális teherbírás 400kg. A hivatalos terhelhetőség 120kg.
Van rá garancia? 
A FeetUp-ra 3 év garancia van.
Szétszerelhető-e a FeetUp szék?
Nem, az eszköz nem szétszerelhető.
| | |
| --- | --- |
| szerkezet | világos nyírfa, rétegelve |
| párnázott felület | újrahasznosított hab |
| borítás | műbőr, lila színben |
| különleges tulajdonságok | minden alkatrész vegán |
| méretek | 64 x 40 x 40 cm |
| szabadalmaztatott | |
| garancia | 3 év |
Reviews

2 rating



Erika
|

09/08/2020
Egy éve szemezgetek ezzel a székkel, éreztem, hogy kell nekem ilyen. Nagyon szeretem használni, mindenkinek ajánlom!
Jó, fordítottan lenni!
Ibolya
|

31/07/2020
Ha jógázol (de ha nem is), tudod, milyen fontos a fordított testhelyzet. Ha otthon jógázol, ennek két módja van: gyertya, fejenállás. De a gyertya folyton uncsi, fejenállni meg sose tudtam, még az iskolában sem. Szóval az idei küldetésem az volt, hogy megtanulom ezt. Nos... ötvenévesen egyáltalán nem egyszerű. :(
Aztán kipróbáltam a feet up széket a jógastúdióban, ahová járok, és hát, ez
ISTENKIRÁLYSÁG!!!
Iszonyú drága. De most már használom egy ideje (mindennap néhány percet), és egyre biztosabb vagyok benne, hogy így is megérte!
Köszönöm!
Those who ordered this product also liked the following items: