Cotton eye pillow - Bodhi
Model:

100300-berry-eletviraga

Average Rating:
Not Rated
Manufacturer:

Availability:

Last 1 db in stock

Shipping fee:
3.00 €
Expected delivery:
March 02, 2021

Our vegan cotton eye pillow is filled with linseed and lavender from certified organic cultivation. The lavender scent has a relaxing, calming and uplifting effect. The gentle weight of the pillow blocks light and helps relax the muscles around the eyes. This helps deepen your relaxation, also in Shavasana. The cotton cover is removable and washable at 30°C. The ticking which holds the filling is sewn shut.
Description
The pillow deepens the relaxation during Savasana. 
cotton cover
cotton insert
size: ca. 23 x 11 cm
weight: approx. 260 g
flaxseed and lavender filling
Gifts & Kits
Yin jóga csomag
Colour: Burgundy
Filling: cert. organic flaxseed and cert.organic lavender
+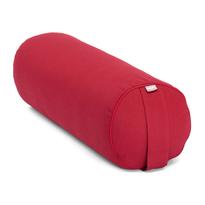 Colour: Burgundy
Filling: 100% cotton
+
Reviews
There are no reviews for this product.
Those who ordered this product also liked the following items: