Description
Eight chords are welded with silver into the metal plate at the base of the resonance tube. Precise tuning creates a play of clear tones that is rich in overtones. The overtones of the shorter chords gradually dominate and become fundamentals, thus forming a circular tone range.

Move the chime gently holding it by its cord: the crystalline relaxing sound may leave you in quiet wonder. Suspended, it will play with the wind and carry you away in an unexpected melody.
| | |
| --- | --- |
| Henger átmérője | 6 cm, henger magassága:16,5 cm, teljes hossza:36 cm.  |
You may also like these:
Preview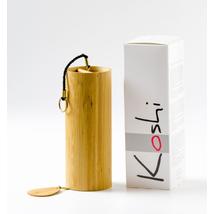 Preview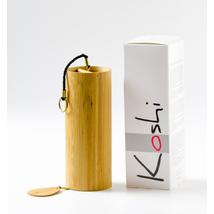 Reviews
26/07/2023
Nagyon tetszik - a kutyusomnak is, amire nem is számítottam. :-)
Be akartam vinni a munkahelyemre, hogy amikor lefáradok, egy kicsit megszólaltassam és ráébresszen, hogy a világ szép (is), de így otthon helyeztem el az étkező asztal feletti lámpa alá rögzítve.
"Muszáj" lesz vennem még egyet, hogy a melóhelyen is legyen, már beígértem a kolléganőimnek is, hogy fáradtság ellen apró szívderítőnek bárki megszólaltathatja bármikor és örömet szerez vele a többieknek is.... :-)
02/04/2023
A termék maga tökéletes , szép, igényes, varázslatos a hangja. Precíz, gyors kézbesítés. Köszönöm !
31/01/2023
Csodálatos hangok, megnyugtató érzés használatkor. Gyors kiszállítás.
16/08/2022
Kristálytiszta hangzás, nyugalmat, harmóniát áraszt. Pillanatok alatt kizökkent a hétköznapi rohanó, zaklatott világból.
27/07/2022
Csodálatos! Tisztít, nyugtat és felemel. Harmonikusan szól, komplett, mint egy zenekar… és csak a kezemben tartom.
11/04/2022
Nagyon szép a hangja!
01/12/2021
Maximálisan elégedett vagyok ! Csodálatos hangzású terméket kaptam, gyors kiszállitással !!!!
Those who ordered this product also liked the following items: