Kurma Grip 60 yoga mat XL
Loyalty points available to receive:
52
Model:

100156-grip-anthracite-XL-60

Average Rating:
Not Rated
Manufacturer:

Availability:

In Stock

Shipping fee:
3.30 €
Expected delivery:
January 28, 2022

Comfort, stability and grip in perfect balance. Capture the essence of your practice on a safe non-slip mat combining maximum cushioning with firm stability.
Description
The KURMA Black Grip honors our previous KURMA Blackstudio line while moving forward with today's advancements. A fine cloth-like embossment was added to improve the mat's grip, and the composition was carefully updated to reduce weight without compromising the legendary KURMA durability.

Storage: It is recommended to wrap the Kurma Sadhana up so that the top side (fabric-like side) is at the front, therefore the corners will not come up from the ground during use.

Maintenance: The mat can be cleaned with a solvent-free household cleaner and with a damp cloth or sponge.
| | |
| --- | --- |
| Width | 60cm |
| Weight | 2.9kg |
| Material | PVC |
| Thickness | 6.5mm |
| Country of Origin | Németország |
| szűrő szín |   |
| Material | Oeko-tex certified, 100% latex free, high density, PVC cushion |
Gifts & Kits
Ashtanga Jóga csomag
Colour: Dark Grey
Length: 200 cm
+
2x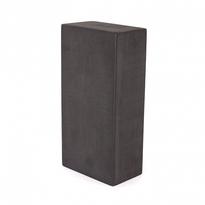 Reviews
There are no reviews for this product.
Those who ordered this product also liked the following items: