FeetUp® - Switch perspective
Model:

100173-Basic

Average Rating:

(1)

Manufacturer:

Availability:

Out of stock

Shipping fee:
3.00 €
Expected delivery:
December 02, 2020

FeetUp® enables you to take up the inverted posture without putting pressure on your cervical spine. 
The headstand with FeetUp® is easy as child's play. Now even yoga novices without any previous knowledge can experience the benefits of the invigorating inverted postures. 
Description
If headstand is the king of asanas, then FeetUp is your throne. This innovative inversion aid enables you to hold a safe and stable headstand posture without any pressure on the neck and spine. 
FeetUp gives beginners the confidence to raise their feet skywards and reap the benefits of sirsasana, whilst more experienced practitioners can challenge themselves and have fun with new versions of inversions beyond their previous practice. 
Made from birch wood with a soft faux leather padding to support the shoulders.
SAFETY:
anti-slip rubber caps for maximum stableness
solid frame made from multilayer birch wood
maximum load-bearing: 400 kg
ADVANTAGES:
firm inverted posture - the body rests on the shoulder
neck and cervical spine are relieved of pressure
easy to use
only a few deep breaths while in the inverted posture are sufficient to refresh your body and gather new energy
numerous exercises to stretch and realx for a diversified yoga practice
an experience for body, mind and soul through a complete switch of perspective
ideal for your home and office
DETAILS:
FeetUp® stool
booklet, 28 pages, with exercises and descriptions
four pieces of anti-slip rubber caps (transparent, can be plugged onto the feet)
construction manual and tool (time for construction only 5 Min.)
SUSTAINABILITY:
For every FeetUp sold, the makers of FeetUp donate one tree to Trees for the Future. 
One FeetUp® = One new tree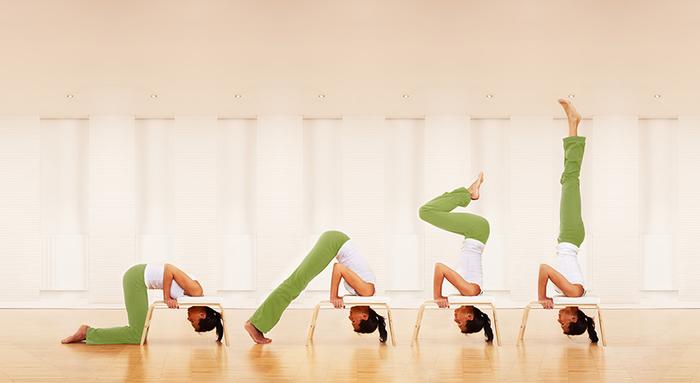 Frequently Asked Questions
Can I use FeetUp® as a beginner?
Yes. The FeetUp® is a yoga tool that makes the headstand accessible for (almost) everyone. The first idea behind FeetUp® was to create a beginner tool. The positive feedback over the last years shows us again and again: headstand with FeetUp® is super easy!
How long should I stay upside down?
In the beginning for a few seconds only. After a short while, when you feel confident, you can stay upside down for several minutes. Best is to listen what your body tells you.
Is it normal to have a pressure in the head at the beginning?
Sometimes yes. Your body needs some time to get used to being upside down. Do it regularly and the pressure will disappear soon.
Are inversions healthy?
The ancient scriptures of the yoga masters speak about the amazing effects of the headstand on the body and mind. The change of gravity has a training effect on our cardiovascular system. You can find further information about the health benefits of headstand in yoga specialist literature and on the internet.
Is FeetUp® safe?
The frame of FeetUp is made from multilayer birch wood, which is bent in one continuous piece. It is thereby strong and flexible at the same time. Just like a yogi :)
How high is the maximum load bearing?
Safety tested for load bearing to 400 kg by the Technical University of Braunschweig (Germany). The official load bearing is limited to 120 kg of bodyweight from our manufacturers side.
Do I have a warranty?
Our warranty for the FeetUp® is 3 years.
| | |
| --- | --- |
| frame | white birch wood, multilayer |
| padding | recycling foam |
| cover | faux leather, white |
| special features | all parts are vegan |
| dimensions (LxWxH) | 64 x 40 x 40 cm |
| patented | |
| warranty | three years |
Reviews
1 rating
Mia
|
28/03/2015
Szerintem ez az eszköz egy zseniális találmány. Amióta megérkezett minden nap használom. Nem vagyok egy nagy MacGyver így külön örültem annak is, hogy az összeszerelése alig pár percet vett igénybe, szerszám pedig nem is kellett hozzá. Az eszköz szuper stabil, és a párnázott felületnek köszönhetôen nagyon kényelmes is. Igazán jó szívvel ajánlom mindenkinek.
Those who ordered this product also liked the following items: